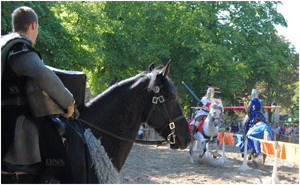 Reconstitution of a Middle Age's village as it was during the end of 15th century and the beginning of the 16th century.

The park of the village of Ribeauvillé receives for the third consecutive year this very special event for our place. In fact, Ribeauvillé is known as the "Capital" of the Middle Age in Alsace, and it is with a lot of pleasure that the local people invite you to discover many things about it.
You are going to found persons working with the same materials like they using four hundreds year to go, and also spectacles and animations.
Friday and Saturday it is organizing a "banquet" for a friendly moment to share.
This event takes place from 10am to 6 pm and it is free access.